Welcome to Henley-on-Thames
As a Henley family of 8 generations we provide a unique view on Henley. We share old photos/postcards and more recent photos, provide local weather information, and blog to the world about Henley. If you're not sure where to start you can choose from our short list below or just dive in and go somewhere random. If you have a Henley event to promote, a Henley business to advertise or wish to contribute to our website then why not contact us with your information, suggestions or thoughts.
What do you want to do?
---
Weather Forecast
Sorry, no forecast available for today as we're a little busy. Please come back soon.
Did You Know?
Now this might not be a fact and it would be nice to see if it is or not so if anyone knows different please let us know. In Henley and I suspect many towns around the country you have half dome bricks built in the corner of a recessed building like those in Hart Street opposite St. Mary's Church and New Street. Now I know in the sixties and may be even up to late seventies they had iron railings on them. I have been told that they were put there to prevent "men" (I assume) from urinating in the corner when they came out of the local pubs. A strange one if it is true!!
Interactive Aerial Photo of Henley »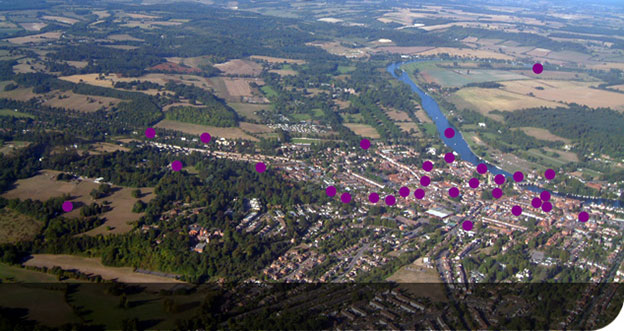 Please hover over a spot to see information about the selected area. Click spot to view photos.
Henley is a market town in Oxfordshire, England. It can be found in the beautiful Thames Valley region along one of the most scenic stretches of the River Thames. The town is picturesque and relaxing with plenty to see and do.
Henley Bridge sits proudly on the river and joins the town to the village of Remenham where the famous Henley Royal Regatta is held. Henley Royal Regatta lasts for four days in late June / early July and truly brings the town to life. The Regatta culminates with a fireworks finale to send the town partying into the Henley Festival a week later.
A visit to Henley is good at any time of the year. Tourism is a very important to the Henley area and you can be assured of a friendly welcome from the local residents. Henley is home to a number of small curiosity and antique shops that are sure to spark your interest. The award winning River and Rowing Museum is an extremely popular attraction.
Key landmarks in Henley include Saint Mary's Church which sits magnificently opposite Henley Bridge. If you're looking for somewhere to eat then you can't go wrong in Henley. The bustling town centre is overflowing with good restaurants.
Please take some time to explore our website and take a "virtual tour" of Henley. If there's an area of the town or surrounding area that you'd like to see us feature please contact us.