Henley Regatta – An Overview
Henley Regatta is one of the best known rowing events in Britain and has a rich and varied history dating back to 1839. The Regatta has become such an prominent event that members of the Royal Family have attended and it has an important place on the social calendar of the upper classes.
---
The Henley Regatta was created long before current rowing rules and federations were in place, so it occupies a unique position in the rowing world, having its own rules and being exempt from other governing body jurisdiction such as that of the British Rowing or International Rowing Federations. However the Regatta is still very much recognised by both of these sporting bodies.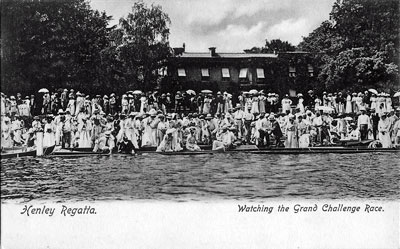 The Henley Regatta works to an unusual format which dates back to its origins in the 1840s. It uses a knock-out draw with just two boats racing per heat. This draws out the race considerably compared to other modern multi-lane regattas and the race will take place over 5 days with up to ninety races taking place at five minute intervals. The race course is spread over a mile and 550 yards – 112 metres more than the standard 2,000 metres of current international courses. The course takes around 7 minutes to complete and competitors are narrowed down until the final race on the final day.
Nineteen events will be run over the event – these include eights, fours, quadruple sculls and races for double sculls and coxless pairs. There are also single races for women and men – and it's worth noting that 1993 was the first year that women competed in a full event when the single scullers event was inaugurated for women!
The event changed significantly again in 2004 when the Prince Philip Challenge Cup in the Coxed Fours was dropped due to declining levels of interest in the international arena. Two lower level events are now in place, the student crew's cup – Prince Albert Challenge – and the Club Crew's cup – Britannia Challenge.
International interest in the event has grown over the years and countries including Canada, Australia, Denmark, France, USA, Croatia, Poland, South Africa and Germany have competed at high standards. In 2009 there were 93 overseas crews.
The event continues to go from strength to strength, costing around £2 million every year, generally raised from member subscriptions and sponsorship. Guests flood to attend and local guesthouses and campsites are heavily booked each year. The event is definitely one to experience, so pack up you lightweight tents and picnic and get on the waiting list for next year!