Park Road Street Party – Friday 29th April 2011
Over 140 residents, family and friends attended the Park Road Street Party on Friday 29th April 2011.
---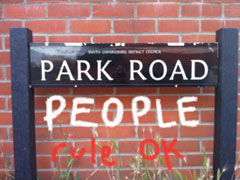 The street was awash with red, white and blue: bunting and balloons, mixed with flags and flowers and a particularly royal array of blooms outside number 29. With entertainment and activities planned from 2pm until 7pm, guests brought food and drink to share and quickly entered into the spirit of the day. Dressed in union jacks, as princesses and queens, sporting tiaras or decorative hats the guests mingled with the fancy dress competition entries and enjoyed posing with Kate and Wills who made a special guest appearance (as a cardboard cut-out).
Residents had been busy baking cakes, making scones and heating up sausage rolls and the amazing culinary talents were enjoyed by kids and adults throughout the day.
There were competitions for the Best Drawing and a Prettiest Pet photo competition, plus a prize for decorating your bike or scooter. A fabulous Royal Trail Quiz was designed by local resident Claire and proved hugely popular with over 30 kids (of all ages) hurrying around the street to find the answers.
The Grand Raffle was full of prizes donated by local businesses and local people and all proceeds go to Thames Valley and Chiltern Air Ambulance. It is hoped that over £200 was raised.
Chief Organiser Sam Giles comments, "I am absolutely delighted with how the day went. The rain stayed away and everyone got involved and everyone looked like they were having a good time. We all had fun with the competitions and the bongo drum workshop was completely fab. There was a really great atmosphere and I am so pleased that it all came together." Sam adds, "Huge thanks to everyone who helped out before, during and after the event. Park Road has always been a great place to live and the street party has really shown the great sense of community that thrives here."
She concludes: "It's a shame it is all over, we're keeping up the bunting for a little longer and just finishing packing away the flags until the next time. There's talk of the Jubilee and with a couple of Olympic Rowers in the street, we'll certainly be celebrating in 2012."
The Grand Raffle
Raffle prizes donated by local businesses included:

Two hair style make-overs from Wigg.co
A Month's free membership from LA fitness
£15 Voucher from CMP Car Accessories
£10 Voucher from The Pet Shop
Notelets from St Audrey's
Champagne from Sainsbury's
A Kodak Digital Camera from Field Agent


Prizes were also donated by local people. These included: Gents Hair Cut (by Claire), Photo Shoot (by Sam), Personal Training Session (by B), Hanging Basket (by Biddy), Sleep Fairy Consultation (by Dee), Back Massage (by Dawn)…plus many more bottles, toiletries and gifts…
All proceeds for the raffle are going to Thames Valley and Chiltern Air Ambulance and we hope to have raised over £200 thanks to the generosity of the guests and the great work by Trish and Nancy selling tickets.
Fancy Dress Competition
There were some fantastic entries into the competition from Olympians and Princesses to David Beckham and Anne Boleyn. Due to the high standard there was a tie for first place shared by Queen of Hearts Maya, and face-painted princess sisters Trilby and Misty; union-jack draped Finlay gained second place; and a very elegant princess called Mel came in third.
Prettiest Pet Competition
Guests were invited to bring along a photo of their pet and the competition was judged by Tim from The Pet Shop.
The winner was Archie the cat; second place went to Spoon the dog (owned by Heidi and Ali); and third place t: Bunny the rabbit (owned by Maya).
Drawing Competition
A royal-themed drawing competition was judged by the Committee with Sam commenting "I am amazed at the standard of the entries. Some of the images of the newlyweds were wonderfully detailed – covering Will's red uniform and Kate's lace-detailed dress. I am really impressed. Plus I am still giggling about James's inspiring picture of Princess Eugenie."
Winner was a hugely talented Grace (aged 11); second place went to Evie (aged 8); and third place went to James (aged 3).
Bongo Drum Workshops
As a special treat we brought in Bert the Busker who was recently performing in the Market Place. Based in Sheffield and leader of the Sheffield Music Group he travelled down to play the guitar and sing; but also led two highly popular bongo drum workshops in the street. Thirty people took to the drums in each session and within minutes were performing as a group. People of all ages took part and Bert was able to collect around £120 from generous donations.
Decorate your bike or Scooter was won by Mel (aged 7) and the Royal Trail Quiz was won by Stuart.
Special Thanks to:
Committee Members and helpers: Nancy, Maya, Shelley, Biddy, Felix, Claire, Taylor, Gary, Ursula, Susan, Carol and Trish…
Bongo Bert the Busker and Toni for the musical entertainment and bongo drum workshops.
Residents of Park Road, Marmion, Grange, Grove and Reading Road and elsewhere for donating cash to help cover costs; attending; bringing out tables, chairs, food and drink; entering the competitions; buying raffle tickets and helping clear up.
Taylor for designing the Programme and Shelley for the leaflet.
Dos for putting up bunting.
The driver of the car that – unfortunately for her – was decorated and became part of the street party as she had not moved it…


And the committee would be cross if I did not mention – Sam Giles – who helped organise and boss around. Sam adds: "I feel so proud to have been involved and this is certainly been a fabulous day and one we will all remember for a long time."
Contact: Sam Giles, samlane@live.com / 07708 247248